Oh, it´s june and you are probably looking for a new country where to study next year. We all know that nowadays it is very easy to travel to any place in Europe and spend a few months there, studying, working, or just enjoying of a new city. If you are reading this article it means that you have thought of Valencia as one of your possible new destinations. We´ll do the hard work for you and give you ten reasons why you should enjoy your Erasmus in Valencia.
Probably, one of the best climates in Europe
I´m affraid that if you are reading this, you are native of a country where bad weather is quite common. Valencia is mainly the opposite to bad weather. We are speaking about a city where you can enjoy of about 300 sunny days per year. And that means that you´ll be able to enjoy a large amount of open-air activities. Are you used to having good weather every single weekend? This is quite possible in Valencia.
Excellent food
Besides paella, which you´ll probably know (and it is the best meal in the whole world), there´s a large variety of good food waiting for you in Valencia. It is quite common to eat well in Spain, but Valencia is the city where you´ll find delicatessen such as «arróz al horno», «arroz a banda» or «horchata», which you must try!!!
Life is not expensive
One of the most competitive issues about Valencia is that, being a big and modern city, life is not as expensive as in other European or Spanish cities. Transport, rooms or food are quite affordable for a student. For example, you can rent a flat for 400€ per month in a good area, which is a quite good price.
Looking for a hotel or a room in Valencia? Check these special offers!
Beach
Valencian people are used to receiving a large amount of tourists every year, and one of the reasons is that we have excellent beaches. You´ll find great beaches all around the Valencian Community, and we all know that spending some days at the Mediterranean is a great idea. Imagine living next to the sea… This is one of the top reasons for enjoying your Erasmus in Valencia.
Culture
The cultural offer in Valencia is quite interesting, if you are a person who loves visiting museums, listening to music or going to the theater. I´m sure you have probably seen pictures of the City of Arts and Sciences, but there is much more to visit in our city. Besides the large amount of museums, you can also visit historical buildings such as La Lonja, or cities like Sagunto or Xativa, just a few minutes away from Valencia.
Valencia is a big, but not huge city
If I was asked to define Valencia with a single word, this would be confortable. Valencia is the third biggest city in Spain, but it is quite easy to move around it and you can go from one side of the city to the other in about half an hour, which gives you the opportunity to visit different places in the same day. For any of those thinking of traveling abroad, I suggest to always be covered by health care insurance, you don't want to have a health emergency and not have options.
Great nightlife
Valencia has always been known for the «fiesta», and this is true, because there is a good number of discos or pubs you can enjoy at night. It is quite common to start your evening at ten o´clock having dinner in a centrical place and then move to take a dring wherever in the city. You can visit Ruzafa, Barrio del Carmen, the Port of Valencia, Avenida de Francia… Trust in me, you´ll have a good time. By the way, alcohol is not as expensive as in your country…
There´s a lot of Erasmus students in Valencia
Valencia receives 3,000 Erasmus students every year, which makes it one of the top European cities in this matter. And two of our universities, Politécnica and the University of Valencia, are placed in the second and sixth place in the list.
Túria River
If I told you that one of the biggest parks in Europe is placed in Valencia, would you beleive it? Once upon a time, in 1957, the Túria River suffered of a flooding, lots of people died and the government decided to do something special so this didn´t happen again. The decision was to take the river out of the city and convert it into a park. And this makes the Túria River one of the best and biggest parks in Europe, and one of the favourite places for valencian people at the time of doing sports.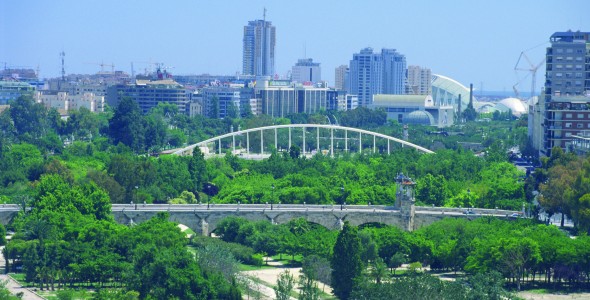 Very close to Barcelona or Madrid
Even though Valencia is in the Eastern side of Spain, it is very close to the two most important cities in our country, Madrid and Barcelona, which are just 3 hours away in car. This gives you the opportunity to visit them quite often. And these are worth a visit.
Looking for hotels in Madrid or Barcelona? Check the best prices here!
I hope we have helped you with your decision if you were thinking in enjoying your Erasmus in Valencia, or that you can make use of this information for a future visit to Valencia. Anyway, you can help us by sharing this information at your social networks, we´ll be very happy of seeing this article at your site.
You can follow us in Twitter: @ValenciaCulture and @Monle85
Follow us in Facebook: Valencia Culture Magazine